Measurements Taken
As with all Dynapulse monitors, the Pathway measures:
Systolic Blood Pressure (Central Systolic BP)
Mean Arterial Pressure (Central MAP)
Diastolic Blood Pressure (Central and K5 Diastolic BP)
Korotkoff (K1) Equivalent Systolic Blood Pressure
Korotkoff (K4) Equivalent Diastolic Blood Pressure
Reports Generated

Measurements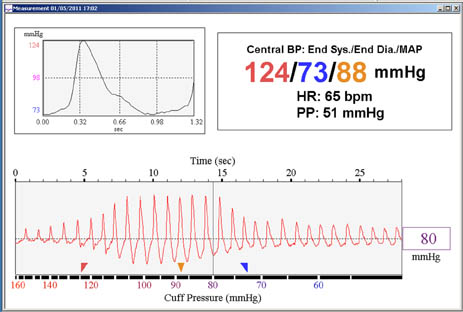 The Measurement screen is the display of the results of a blood pressure reading. To the upper right side you will find the measurement results.

Along the lower portion is the Pulse Waveform, which is what you use to detect arrhythmia's and for validation purposes. Once you save the data it will automatically update all the trend information.

Trend Graph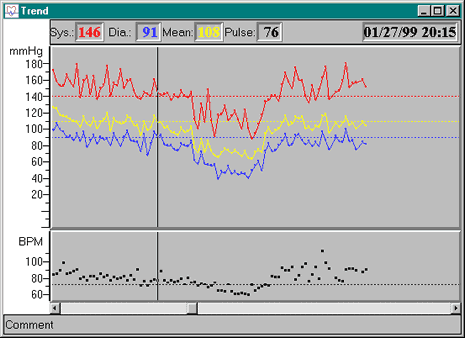 The Trend Graph is the first screen that appears when you click on a patient's name. This shows the blood pressure readings for that patient over time.

Visually you and your patient can easily see how their blood pressure is doing over time. Time is shown on the horizontal axis and the measurements are on the vertical axis.

Trend Analysis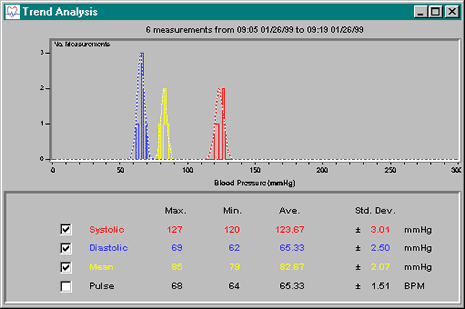 The most important screen is the Trend Analysis. This provides a statistical report based on the Trend Graph. Use the Trend Analysis to document numerically the results of your interventions:
How effective is the current medication compared to the older medication?
What is the change in blood pressure?
The Trend Analysis includes averages and standard deviations for each measurement parameter. You can segment the data from the Trend Graph to produce reports with different data parameters, such as, the measurements from June and another parameter using July.
DynaPulse vs. K-sound Blood Pressure

Korotkoff Sound vs Oscillometric Cuff Sphygmomanometers: Comparison Between Auscultatory and DynaPulse Blood Pressure Measurements

Hemodynamic Analysis (Internet Services)